DEDICATION TO FATHER
The only child of late Shri Challapalli Ranga Rao and Sundaramma, he started learning Veena at the tender age of five and gave his first full fledged concert at the age of twelve and gained recognition as a child prodigy. He is the disciple of Late Mahamahopadhyaya Dr. Emani Sankara Sastry.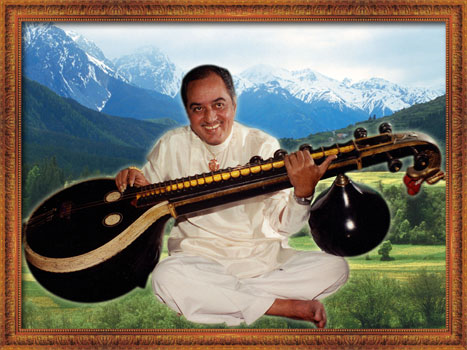 A brief sojourn in the filed of film music during which he had also scored music for a few films preceded his foray into the filed of classical music. The expquisite tonal quality and sheer versatility that have been the maginal hall-marks of this genius have taken him to dizzy heights in his chose path. Accolades from the cognoscenti and the hoi-polioi alike have come in a deluge.
His music has transcended beyond man make barriers taking him and along with him, a part of our rich cultural heritage to almost every corner of the globe. He has many discs and cassettes to his credit and is a T.V. star a home and abroad.
An artiste who pursues with and

instaiable zeal and dedication his motto:
"Veena is my mission in life"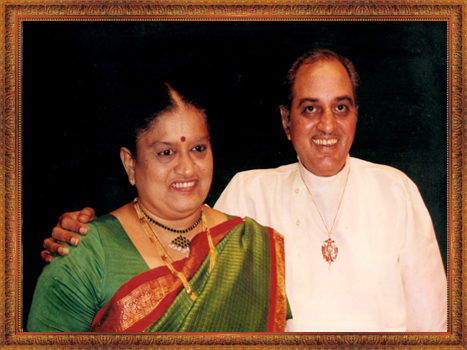 Programme on Doordarshan Compered by Padmashri Kamalhassan and produced by Flute HARIPRASAD CHAURASIA.
Abroad
1. Live recording of the concert given at "The Waldorf Astoria", New York in 1976. He is the first Indian to perform there
2. One LP record in West Germany given for "Harmonia Mundi" in 1971.
3. One LP record in U.S.S.R. recorded at Moscow in 1987.



In INdia : Given a number of LPs and Cassettes
1. First to introduce "Musical Portraits" (Thematic Music) only with Veenas, like "Radha Madhavam", "Sivaleela Vilasam" etc.
2.First to have given the magnum opus "Temple Bells" with 50 Veenas
3.First vainika to have recorded Westernized tunes on the Veena like "wedding Bells" and "Serenade"etc
Chitti Babu has scored music for:
1. D.Jayakathan's Award winning art Film "Unnai Pol Oruvan" (Tamil)
2. C. Rajagopalachari's (Rajaji) "Dikketra Parvathi" Another Award winning art film directed by Singeetham Srinivasa Rao.
3. "Sri Raghavendra Vaibhvam" (Featyre film in Telugu and Kannada)
4. Lent his Veena support through out the entire film in Director Sridhar's Classic "Kalai Kovil".
T.V. and Radio Performances (World Wide)
India, Sri Lanka, Malaysia, Singapore, Hongkong, West Germany, U.S,A., Canada and the then U.S.S.R.
"SADHNA"
Featured in an exvlusive episode of the prime-time serial " SADHNA" on the national network of Doordashan. A serial portraying the living legends of Indian Classical Music, sponsored by JK Tyres under the banner of "Anuradha Films" producted by Smt. Anuradha Chaurasia and Sri. S. C. Chhiba.